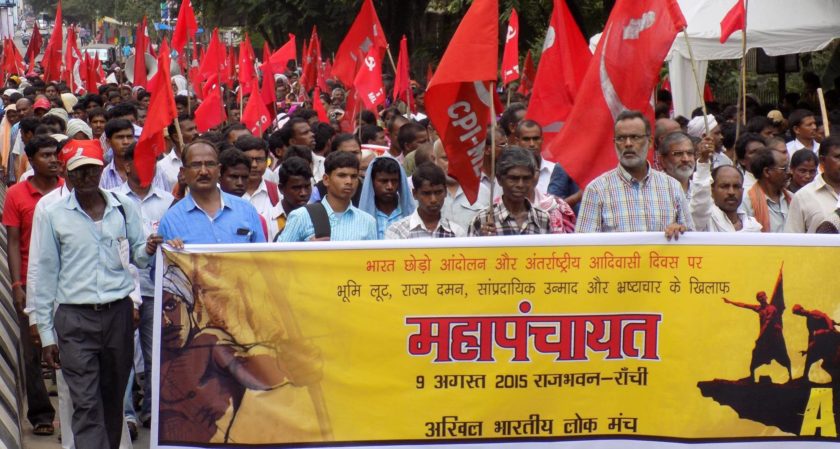 9th August is observed as August Kranti Diwas and, since 1995, also as International Day of the World's Indigenous Peoples, when indigenous people all over the world celebrate their identity and their rights. This year the BJP govt in Jharkhand played the drama of celebrating World Adivasi Day on a governmental level, whereas the truth is that this very govt is attacking the rights of adivasis over jal-jangal-jameen (water-forests-land) and progress through its pro-corporate policies. The AIPF organized a huge mahapanchayat in Ranchi, attended by the CPI(ML) and dozens of people's organizations, and thousands of adivasi people whether women, workers, farmers, youth, students, in their traditional attire.
Addressing the mahapanchayat, CPI(ML) General Secretary Comrade Dipankar Bhattacharya said that this mahapanchayat would become the voice of the adivasis for their rights, against the anti-people policies of the govt. He pointed out the irony that on this August Kranti Diwas, the reins of the country are in the hands of those who belong to a political stream which took no part in the Independence struggle and who are today hell-bent on imposing Company Raj on the country. He said that World Adivasi Day is celebrated as a symbol of adivasis' right to take their own decision regarding jal-jangal-jameen, but this pro-corporate govt is violating all the rights of the adivasis, including hard won legal rights such as CNT, SPT, PESA, and the 5th Schedule and the Govt was bent upon giving their jal-jangal-jameen away to the corporate houses. The AIPF must stand strong on the rights of adivasis, and also must work for the success of the September 2 All India strike called by trade unions to oppose the weakening of labour laws.
The mahapanchayat was also addressed by AIPF leader Kavita Krishnan, Kisan Mahasabha General Secretary Rajaram Singh, human rights activist Fr. Stan Swami, Forum steering committee member Dayamani Barla, MLA Rajkumar Yadav, AIPF leader Yugal Pal, Insaf Manch leader Nadeem Khan, AIPWA leader Geeta Mandal, anti-displacement activist Damodar Turi, adivasi leader Nande Pahan, Left activist Tridib Ghosh, JMS leader Devki Nandan Bediya, Rajesh Sinha and other leaders. Earlier, Forum Advisory committee member and well-known journalist Faisal Anurag gave the keynote address and stressed the need for AIPF to fight against the anti-adivasi policies of the govt. Former MLA Vinod Singh conducted the proceedings and CPI(ML) CC member Anant Prasad Gupta welcomed the participants of the mahapanchayat and read out the 21 point political proposition. Anil Anshuman read out the declared programmes of the AIPF and proposed a vote of thanks. The Jharkhand JASAM team Prerna presented songs. Filmmaker Meghnath, social activist Prof. Hasan Raja, right to food activist K Balram, and members of the Forum steering committee also participated in the mahapanchayat which concluded with the constitution of a 21 member Jharkhand State executive and a 43 member State council.
The following organizations joined the mahapanchayat: 1. Adivasi-Mulvasi Astitva Raksha Manch; 2. Jangal Bachao Andolan; 3. Bagaicha; 4. Bhoomi Raksha Manch; 5. Visthhapan Virodhi Jan Vikas Andolan; 6. HEC Hatiya Visthhapit Parivar Samiti; 7. Jharkhand Para-Shikshak Sangh; 8. Jharkhand Jan Sangram Morcha; 9. United Milli Forum; 10. Dalma Raiyyat Suraksha anch; 11. Jharkhand Minority Forum; 12. Jharkhand Andolankari Morcha; 13. Bermo Coalfield Visthhapit Mazdoor Union; 14. Jharkhand Petroleum Transport Shramik Union; 15. Rajhara Bachao Sangharsh Samiti; 16. Akhil Bharatiya Kisan Mahasabha; 17. AICCTU; 18. AIPWA; 19. Jharkhand Jan Sanskriti Manch; 20. AISA; 21. RYA; 22. AKHDA ; 23. Insaf Manch; 24. Jharkhand Gramin Mazdoor Samiti; 25. APCR. During the mahapanchayat many other people's organizations also joined the Jharkhand AIPF. q