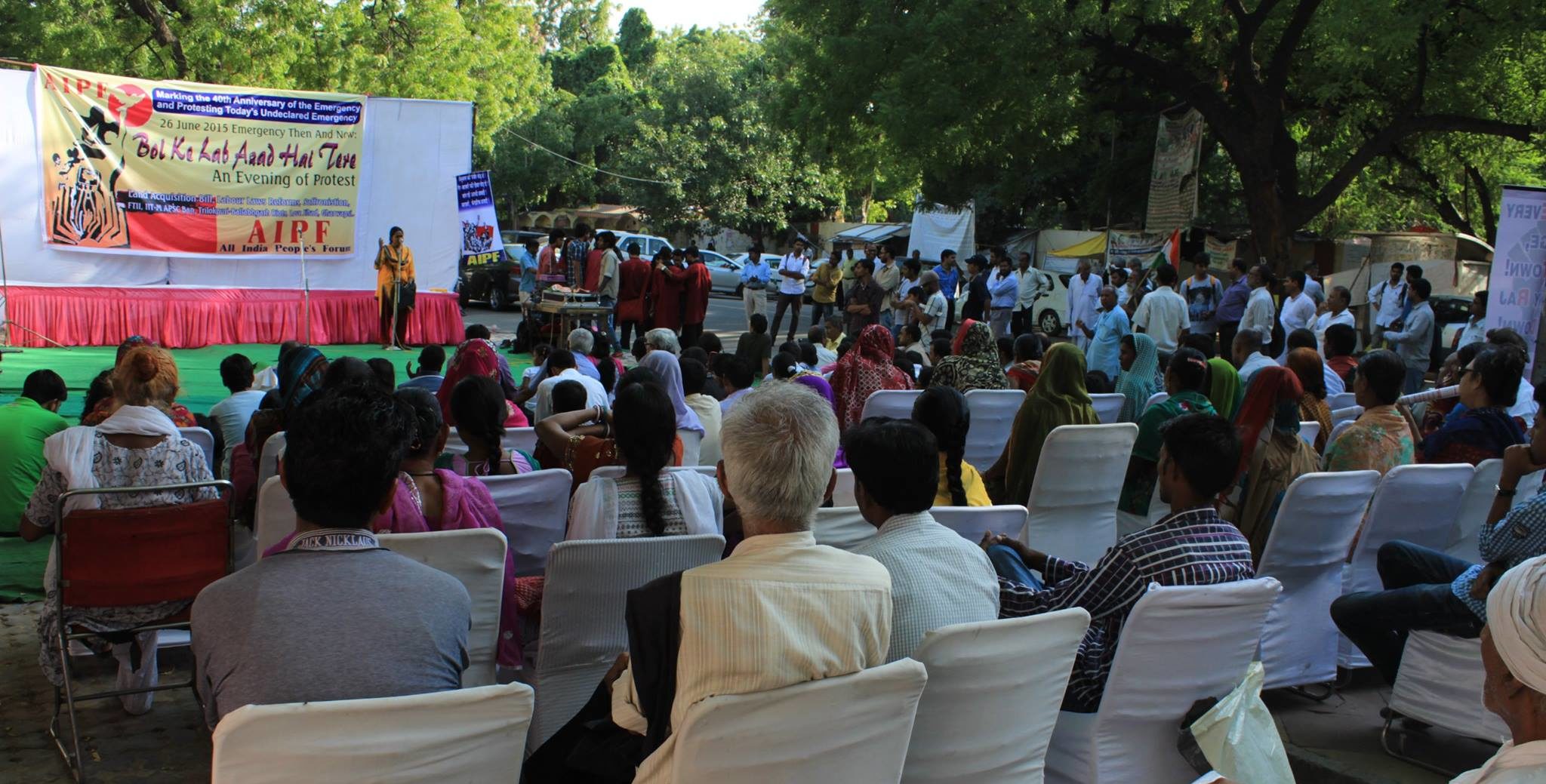 In several states, the AIPF units culminated the 100-day campaign by protesting today's Undeclared Emergency on 26th June, Emergency Day.
More than 400 people attended a public meeting organised at Coimbatore on 26th June against the undeclared emergency in the country. The meeting was addressed by Com. Kumarasamy, Politburo member of CPI(ML), Com. Balamurugan, state GS of PUCL, Com. NK Natarajan, State President of AICCTU, Com. Chandramohan, National Campaign Committee member of AIPF and Com. Balamurugan, GS of Shanthi Gears Employees' Union. On the same day a convention was also organised at Sriperumputhur. Com. Rajaguru, state president of RYA presided the meeting. It was addressed by Prof. A. Marx, National campaign committee member of AIPF, Advocate Prakash, NCM and also President of the United Labour Federation, Com. Sujatha Modi, member of the AIPF National Council as well as National Secretary of NTUI, and others. Workers from factories like Diamond engineering, Nippon express, Hyundai and C &F participated. A convention was also held at Nagerkoil.
In Andhra Pradesh too anti-emergency day dharnas were organized on 26 June in front of 12 mandal revenue offices. Hundreds of people participated in these dharnas.
In Delhi, an evening of protest was organised at Jantar Mantar to voice protest against the 'Emergency then and now'. This was preceded by distribution of AIPF leaflets in Delhi working class areas and metro stations, exposing an year of Modi rule. The 26th June programme was conducted by Kavita Krishnan. Activist and lawyer N. D. Pancholi talked about the RSS & BJP leaders' apologies offered to the government during the emergency and their cowering before Indira Gandhi, quoting none other than current BJP member, Subramanian Swamy. The evening also saw protest songs sung by Sangwari and a beautiful rendition of 'Bol ke lab azzad hai' by Roma Malik. She also spoke about the struggles being fought by the adivasis to keep their land from being forcefully grabbed. Shabnam Hashmi sang a song composed to mock Indira Gandhi during the emergency. Prof. Atul Sood of JNU spoke about the undeclared emergency that the country was facing today. Poems were read out by Viren Dangwal and Vishnu Nagar. A ragini on Modi was performed by Satbir Shramik. Select film clippings were also presented by Sanjay Joshi, national convenor of Cinema of Resistance during the programme.
In Patna, an AIPF organized an evening of protest on 'Emergency then and now' in Gandhi Maidan in Patna. Programmes were also organized in Bhagalpur and several other places in Jharkhand and Uttar Pradesh where anti-emergency rallies were held protesting against increasing assaults on people's democratic rights and livelihood in current times by the incumbent government.