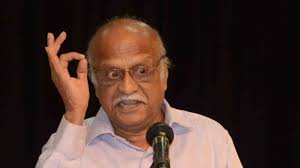 AIPF strongly condemns the murder of noted rationalist and Kannada scholar, former Vice Chancellor of Hampi University, Prof MM Kalburgi. Prof Kalburgi, 77, was shot dead in Dharwad, by suspected Hindutva militants.
Prof Kalburgi had faced threats and protests by Sangh groups for his rationalist views.
Prof Kalburgi is the third rationalist and anti communal voice to be murdered in the past three years, after Narendra Dabholkar and Govind Pansare. It must be noted that a local Bajrang Dal leader on social media has brazenly celebrated Prof Kalburgi's murder and issued a threat to another rationalist KS Bhagwan.
It should be recalled that institutions like Bhonsala Academy serve as arms training centres for Hindutva militants, yet no action has been initiated against it. The Sanghi terror cases including a series of bomb blasts, have been systematically weakened by the NIA at the behest of the Modi Government. This has created a confidence in the Sanghi terror outfits that they can literally get away with murder.
The series of murders of rationalist and secular activists by Hindutva terrorists in India mirrors the murders of rationalist and secular bloggers by Islamic terrorists in Bangladesh.
The AIPF demands a speedy probe to identify and punish the killers of Prof Kalburgi. AIPF also demands an independent probe into the funding, training and provision of arms and political patronage to violent Sanghi outfits.