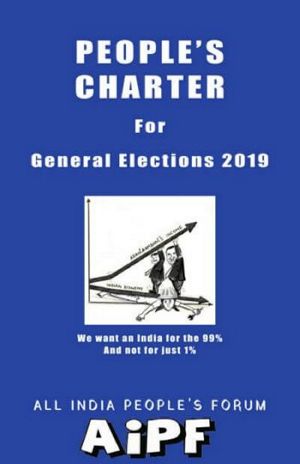 We want an India for the 99%
And not for just 1%
ALL INDIA PEOPLE'S FORUM (AIPF)
February 2019
Contact: U-90 Shakarpur, Delhi – 110092
Phone: 91-11-22521067
Contents
Introduction
Ten Broken and Betrayed Promises of Modi
Ten Worst Attacks On Democracy And Constitution
Ten Lies and 'Jumlas' of the Modi Government
Ten Huge Scams
We The People Demand
PEOPLE'S CHARTER For General Elections 2019
We want an India for the 99% and not for just 1%
Since May 2014, we, the people of India, are witnessing the Modi Government assaulting hard-won rights of India's people, eroding and weakening democratic values and institutions, dividing the people on communal lines and emboldening communal-criminal elements, and sharply increasing corruption and corporate plunder.
This crisis for Indian democracy has roots in policies adopted by previous Governments as well: policies that promoted corporate plunder, weakened democratic institutions, and failed to uphold and promote Constitutional morality on a range of social questions including communalism, caste, and gender.
We the people of India, have not forgotten the promises that Narendra Modi made to come to power – and we will not forgive his Government for betraying them. We the people of India have kept accounts of all the broken promises and lies. The Modi Government has shamelessly compromised the interests of India's people on every front, working to serve the PM's corporate cronies and the Sangh Parivar's divisive anti-Constitution agenda alone.
The election of 2019 must be an election to vote out the disastrous Modi Government and reclaim our beloved country. We also believe this election must be an urgent call for a new direction for India's future: a direction that will empower and serve India's 99% not merely the 1% super rich.
We, the people of India, have won rights and liberties in struggles with every Government of every hue. We are presenting our people's charter – for the 2019 elections and for people's movements. This charter will also continue to orient our struggles even after the 2019 elections. We want the Opposition in India to commit itself to this people's charter – and to be sure that when they form Government, we, the people, will hold their Government, too, accountable to these demands.
Through this charter we would like to remind the people of this country of all the promises that Narendra Modi made in 2014. Through this platform we would like to reiterate our commitment to the struggles of the Indian people for a better and just future, for an equitable society where every individual can live with dignity and their voices be heard in a sensitive manner by those who govern. We are also committed to struggling not only for these rights, but for the democratic spaces where those struggles can thrive, be respected and heard.
Ten Broken and Betrayed Promises of Modi
1. Promised to lower fuel prices : In 2014 when crude oil was priced at $109.41, the petrol price in Mumbai was Rs. 80.89. In 2018 when crude oil prices were still $30 less than the 2014 level, petrol in Mumbai was being sold at above Rs. 84. Now under Modi Sarkar an average Indian has to spend 20% of her daily income to buy 1 litre of Petrol. From 2015 onwards there was a constant reduction in international crude prices but instead of passing this on to the consumers the Govt during that period increased the excise duties on fuel 12 times. During the same period Nepal and Bangladesh experienced lower fuel prices than India. [1]
2. Promised 2 crore new jobs per year : Instead, unemployment is at a 45-year high; 52 lakh jobs were terminated between 2013-14 and 2015-16; for the first time after Independence that there has been a drop in the total number of jobs; there are lakhs of pending recruitments and massive cuts in Government posts – and the cruel joke of claiming credit for 'self-employment' via pakora selling. Modi keeps saying that India is a country of young people, but the biggest betrayal of this Govt has been towards the youth. The Government has failed in providing employment and in having any employment policy which will ensure employment is created for the youth. [2]
3. 'Na Khaunga Na Khane Doonga' (End to Corruption): Modi heads the most corruption-ridden Government in India till date – with the Rafale scam, the NPA scam, the Vyapam scam, the Staff Selection Commission Recruitment Scam, the present govt. has also helped Lalit Modi, Nirav Modi, Sandesra, Mallya, and Mehul Choksi loot India and flee to foreign lands. The Pakistan Prime Minister Nawaz Sharif had to resign and even go to jail as a result of the revelations in the Panama Papers but in India, despite a slew of celebrities and political heavyweights being named no action or investigation has been initiated, the same goes for the names and transactions revealed in the Paradise Papers. The Govt. is about to end its tenure and the Lokpal is nowhere in sight making a mockery of Modi's claim to end corruption.
4. Promised to bring back black money stashed in Swiss Banks : Modi was backed by fraud men like Ramdev who also campaigned extensively for Modi on this basis. Instead, we witnessed that money parked by Indians in Swiss banks rose over 50% to 7000 crore in 2017, and the Modi Government now tells us that "all money in Swiss Banks is not black money'! [3]
5. Promised to raise the value of the rupee : Modi repeatedly mocked Manmohan Singh for failing to control the exchange rate of the rupee but today we see the rupee is in a free fall hitting an all-time low of Rs 73 per US dollar – and it is still falling! [4]
6. 'Bahut hua naari par vaar' (women's safety): Instead, Modi's ministers and BJP leaders have led the assault on women's rights and safety, and have been trying relentlessly to turn the clock back on the advances made by various social reforms and women's movements. In Kathua and Unnao BJP leaders held rallies in support of the rapists. [5] BJP leaders defended the rapist babas Ram Rahim and Asaram.[6] Using the communal-patriarchal term 'love jihad' for love between Hindu women and Muslim men, RSS mobs and even police in Yogi-ruled UP are violently attacking such couples. BJP leaders advocate child marriage as antidote to 'love jihad.[7] In Haryana, a government advertisement praised purdah for women as the "pride" of the state.[8] More than 50% of Beti Bachao funds were spent on advertisements![9]
7. Promise To Empower Farmers : Modi came to power promising MSP (Minimum Support Price) of crops incorporating 50 per cent profit over and above farmers' cost of production (C2), doubling of farmers' incomes, and loan waivers for UP farmers. Instead, today crop prices at various 'mandis' are at an all-time low.[10] In North India potato farmers and in Telangana and Maharashtra tomato and onion cultivators resorted to dumping their harvests on the roads and burning their crops in the fields itself.[11] The farm loan waivers in UP have turned into a cruel joke for the farmers with waivers being as low as Re 1.[12] Modi's last-minute budget sop amounted to a mere Rs 3.30 per month per member of farmers' family; and this did not include share-croppers and farm labourers.[13] The unprecedented apathy of Modi govt to farm crisis in country has resulted in farmer suicides even in places like Haryana, Madhya Pradesh and Tamil Nadu where there was no history of such a phenomenon.[14] Over the last few years farmers have been on streets and protesting farmers have been met with bullets, lathis and tear gas. The Modi government, instead of addressing the issues of farmers has termed them 'lazy', 'cowardly' and 'frauds'.[15]
8. "Mujhe Maa Ganga ne bulaya hai": Ganga clean up: While contesting from Varanasi in 2014, Modi claimed he has been beckoned by Maa Ganga to come and clean up the river, but this too has become another jumla. Only 20% of Clean Ganga Mission funds have been spent till March 2018. In 2017, Delhi-based Centre for Science and Environment (CSE) visited 10 towns and cities located along the Ganga and found that human excreta (faecal sludge) continues to pour into the Ganga.[16] The IIT Professor turned environmentalist G.D. Agarwal (Swami Sanand) died while sitting on a hunger strike to demand the cleaning up of the Ganga. He had written numerous letters to the Prime Minister but they all fell on deaf ears and he had to die.[17] Till date the Government has not taken any single concrete step to clean up the Ganga.
9. "Acche Din" (Good times) and Sabke Saath Sabka Vikaas: The people of India voted for Modi in the backdrop of this slogan. But if at all it has been Acche Din for anybody then it has been for the super-rich, and for the poor and common people of this country the days have never been more worse than the days of last five years of Modi rule. The wages paid to low-skilled labour in India have decreased to 10300 INR/Month in 2017 from 13300 INR/Month in 2014.[18] 67 crore Indians, comprising the population's poorest half, saw their wealth rise by just 1% in 2017. Meanwhile India's richest 1% held a huge 58% of the country's total wealth in 2016, this rose to 73% in 2017.[19] The wealth of India's business tycoons Mukesh Ambani and Gautam Adani swelled by up to 125 per cent in the calendar year 2017.[20]
10. "Jai Jawan": While trying to silence critics in the name of "jawans at the borders", the Modi Govt has far worsened conditions for soldiers: the Parliamentary Standing Committee on Defence slammed the government for high dependency on foreign suppliers and the Estimate Committee of Parliament found "huge deficiencies and obsolescence of weapons, stores and ammunition existing in Indian Army".[21] Of course, the cost is paid by the jawans because of shocking lack of proper facilities: soldiers will have to spend their own money to buy uniforms and other clothes from civilian markets and even spares for certain vehicles will suffer. There are massive discrepancies in the implementation of One Rank One Pension.22
Notes:
1. https://thewire.in/economy/bjps-statistical-analysis-fuel-prices
2. https://www.ndtv.com/india-news/unemployment-rate-highest-in-45-years-reveals-stalled-report-on-jobs-10-points-1985931
3. https://economictimes.indiatimes.com/news/economy/indicators/all money-deposits-in-swiss-bank-not-black-money-arun-jaitley articleshow/ 64794519.cms
4. https://www.telegraphindia.com/india/pm-paid-back-in-same-rupee/cid/1349630
5. https://www.ndtv.com/india-news/countrywide-protests-held-over-kathua-unnao-rape-cases-10-facts-1837854
6. https://theprint.in/opinion/why-does-bjp-say-beti-bachao-and-then-do-balatkari-bachao-over-and-over-again/48905/
7. https://www.ndtv.com/india-news/on-video-up-cops-assault-woman-for-alleged-relationship-with-muslim-man-1922053
8.https://indianexpress.com/article/india/ghoonghat-is-haryanas-pehchaan-govt-magazine-4726907/
9. https://www.bloombergquint.com/quint/truth-of-beti-bachao-beti-padhao-funds-spent-on-publicity
10. https://www.thehindubusinessline.com/opinion/columns/c-p-chandrasekhar/crop-prices-and-farmers-unrest/article9730682.ece
11. https://www.bbc.com/news/world-asia-india-40184788
12. https://economictimes.indiatimes.com/news/politics-and-nation/over-11000-uttar-pradesh-farmers-get-waiver-for-loans-of-re-1-to-rs-500/articleshow/60496814.cms
13.https://economictimes.indiatimes.com/news/economy/agriculture/what-farmers-have-to-say-about-modi-governments-income-support-scheme/articleshow/67810340.cms
14. https://timesofindia.indiatimes.com/india/farmer-suicides-up-42-between-2014-2015/articleshow/56363591.cms
15. https://economictimes.indiatimes.com/news/politics-and-nation/congress-attacks-haryana-minister-for-calling-farmers-committing-suicide-cowards/articleshow/47107559.cms
16.https://www.thehindu.com/sci-tech/energy-and-environment/only-20-of-clean-ganga-mission-funds-spent-till-march-2018/article23828319.ece
17. https://www.telegraphindia.com/opinion/death-by-the-ganga/cid/1672250
18. https://www.forbes.com/sites/panosmourdoukoutas/2018/01/21/indians-are-worse-off-under-modi/
19. https://thewire.in/economy/richest-1-cornered-73-wealth-generated-india-2017-oxfam-survey
20. https://economictimes.indiatimes.com/markets/stocks/news/adani-net-worth-soared-fastest-in-2017-ambani-damani-swelled-theirs-by-80/articleshow/62412882.cms
21. https://www.ndtv.com/india-news/parliamentary-panel-slams-centre-for-inadequate-funds-in-defence-budget-1889736
22. https://thewire.in/politics/is-there-any-truth-to-what-the-modi-government-is-saying-about-the-orop
Ten Worst Attacks On Democracy And Constitution
1. India is turning into 'Lynchistan' : 97% of mob lynching incidents by so-called 'cow-protection' mobs since 2010 took place between 2014-1018, i.e during Modi rule. There were 3 incidents, 11 victims and no deaths in 2014; 12 incidents, 48 victims and 10 deaths in 2015; 24 incidents, 58 victims and 8 deaths in 2016; 37 incidents, 152 victims and 11 deaths in 2017.Between January 1, 2017, and July 5, 2018, 33 persons have been killed and at least 99 injured in 69 reported cases of mob lynchings due to rumours of 'child-lifting'.[23] Modi's Ministers, MPs and MLAs have encouraged lynch mobs, garlanded lynchers, draped them in the national tricolour, compared lynchers to 'Bhagat Singh', and held rallies for the gang-rapists of 8-year-old Asifa at Kathua.[24] Mob violence in Gujarat in October 2018 has forced hundreds of migrants from UP and Bihar to flee the state.[25]
2. Attacks on the Constitution and Statutory Institutions : In 1950 RSS held that the Constitution was "foreign" and that Manu Smriti should be India's Constitution. In 2017 RSS Chief Mohan Bhagwat gave a call to "amend the Constitution to bring it in line with Indian values".[26] Modi Minister Anant Hegde told a "Brahman Yuva Parishad" that the BJP is "here to change the Constitution".[27] Sangh supporters burnt the Constitution at Parliament Street in Delhi, demanding an end to constitutionally mandated caste-based reservations.[28] The Modi Government has also been consistently undermining and weakening constitutional bodies like the EC, Supreme Court, CBI and the RBI and has used PSUs like milch-cows, using LIC to bail out banks whose debts are not being repaid by corporate borrowers.[29] Former BJP CM of Karnataka Yeddyurappa and his close aide were caught in audio tapes trying to buy out an MLA from a rival party, telling him that Amit Shah had "managed" the Speaker, Governor, as well as High Court and Supreme Court to back a BJP coup in the state.[30] The Election Commission delayed the announcement of the dates of the Gujarat Elections to favour the BJP.[31] Recently it has come to light how the PMO through Rakesh Asthana the number two in CBI has been trying to scuttle probes into businessmen who are close to the BJP, and got rid of Alok Varma as CBI head because he stood in Asthana's way.[32] The Modi govt has also attempted to strip the RBI of its autonomy in deciding monetary policy and tried hard to usurp RBI's reserve fund to help its favourite cronies.[33] It has also been using CBI, ED and the Income Tax department to intimidate and harass media organisations which have been critical of the Modi Government.
3. Communalisation of Governance, Polity and Society : Over the last 5 five years Modi's and BJP leaders' speeches and utterances have been replete with communal jibes and innuendos such as 'Kabristan-shamshan', 'Mandir-Masjid', 'Raamzaade-Haraamzaade'. To hide the govt.'s all round failure the BJP and RSS have restored to the issue of Ram Mandir and have even gone on to accuse the Supreme Court of conspiring to block the construction of the Ram Mandir. The Triple Talaq Law, where desertion of wife has been criminalised for Muslim men but not for Hindu men, and the Citizenship Amendment Bill which offer citizenship to non-Muslim immigrants, are illustrations of the blatant communalisation in law-making that the BJP has instituted over the last five years. The Modi Govt and its pet 'Godi' media has been orchestrating hate against inter-faith love by branding it 'love jihad': as a result, attacks on inter-faith couples have intensified all over the country, with the collusion of police and even of some Courts. Multiple videos of BJP leaders, Sangh cadres and police personnel abusing and beating Hindu women for friendship with Muslim men have surfaced from UP and Uttarakhand. Women's freedoms and inter-faith friendship and love are under the worst-ever attack under the Modi regime.
4. Intensified Attacks on Dalits : The anti-Dalit nature of the Govt became clear after the institutional murder of the Ambedkarite student activist Rohith Vemula in Hyderabad Central University. In 2016 in the name of cow protection Dalits were stripped and assaulted in Una, Gujrat. The Modi Government and the BJP Government in Maharashtra has refused to arrest Milind Ekbote and Sambhaji Bhide, who orchestrated the attacks on Dalits at Bhima Koregaon, and instead, arrested Dalit activists, intellectuals and lawyers. In Saharanpur perpetrators of anti-Dalit violence are given a free run and Chandrasekhar Ravan of the Bhim Army was incarcerated under the NSA. The Modi government didn't put up any legal defence in the Supreme Court when the SC/ST Atrocities Act was being challenged. The govt unleashed massive repression on Dalits following the 2nd April All India Bandh called against the dilution of the the SC/ST Atrocities Act and hundreds were jailed across the country. Even while the Government eventually introduced an ordinance restoring the SC/ST Act provisions, Dalits continue to remain in jail for protesting the dilution. While the provisions of reservation in jobs and educational institutions are being diluted openly, Modi's Minister V.K. Singh call Dalit children, who were burnt, as dogs.
5. Spate of Assassinations/Suspicious deaths of journalists, activists, even a judge : Dabholkar, Pansare, Kalburgi and Gauri Lankesh were assassinated by Sanatan Sanstha – a terrorist organisation whose aim is to turn India into a Hindu Nation by 2025.[34] A gun-wielding man tried to shoot at student activist Umar Khalid in Delhi. Judge Loya who was presiding over the case of Sohrabuddin's murder in which Amit Shah is an accused, died under suspicious circumstances after he refused to be bribed.[35]
6. Arrests of activists and lawyers under draconian laws : JNUSU President Kanhaiya and other student leaders were arrested under Sedition law, Bhim Army leader Chandrashekhar Ravan was arrested under NSA, lawyer- activist Sudha Bharadwaj, scholar Anand Teltumbde as well as several other scholars and activists have been arrested under UAPA. More than 11,000 protestors of the anti-Sterlite movement in Tamil Nadu have been charged under draconian laws like NSA. The Modi Govt has been using draconian laws like the UAPA and the NSA to suppress dissent and dissenters.
7. Muzzling and Managing The Media : Under Modi, India has fallen to 136th position in the World Press Freedom Index, with journalists facing defamation cases, death and rape threats, assassination, arrests, with editors and anchors losing their jobs for investigative stories critical of Modi and his Govt.[36] There have also been instances of stories being pulled down from websites under pressure from Modi and his hatchet-man Amit Shah. In the Modi regime there has been a systematic corporate takeover of the Media. Journalists in states and rural areas have been murdered by state sponsored goons for critical reporting. Members of the media fraternity also have had to face physical violence from RSS goons on many occasions in the past five years and the powers that be have prevented any action to be taken on the attackers.
8. Abuse, Threats and Surveillance : On social media and 'Godi' media, dissenting voices critical of the Govt and the Sangh, as well as religious minorities are subjected daily to foul abuse, smears, and threats – often by spokespersons and MPs/MLAs/Ministers of the BJP. In December 2018 it came to light that the Govrnment has allowed 10 agencies including the Delhi Police to intercept, monitor and decrypt information stored and transmitted in any computer in the country.[37] The Aadhaar regime is also being used to boost surveillance. Clearly the Modi Government wants to build a surveillance state and infringe upon the civil liberties of its citizens.
9. Fake News : Public discourse has been irretrievably fouled by the systematic dissemination of fake news by the BJP IT Cell, and various pro-BJP sites. The BJP IT Cell and Godi Media routinely morph pictures and spread them through the right wing eco system and social media. The BJP President Amit Shah recently told BJP cadres: 'Whether sweet or sour, true or false, make your posts go viral' – thus openly endorsing fake news as BJP's weapon.[38]
10. Attacks on Universities : JNU, DU, Jadavpur, Manipur University, Allahabad University, Lucknow University, BHU, AMU, Hidayatullah National Law University, IIT Madras, Puducherry University – have variously witnessed ABVP violence, administrative protection of sexual harassment, destroying of the University's decision-making bodies, and a violent crackdown on campus democracy. In addition, JNU witnessed the disappearance of Najeeb following ABVP mob violence, with the ABVP being shielded by the Sanghi VC. Modi's Ministers and BJP MPs/MLAs have launched personal attacks on students such as Gurmehar Kaur and JNU students. The BJP appointed VCs are routinely undermining the academic autonomy of educational institutions and have now started victimising teachers who are critical of the Govt and its policies.
Notes:
23. Source: Indiaspend.org, https://www.hindustantimes.com/india-news/86-killed-in-cow-related-violence-since-2010-are-muslims-97-attacks-after-modi-govt-came-to-power/story-w9CYOksvgk9joGSSaXgpLO.html
24. http://cpiml.org/feature/modi-rule-is-mob-rule/
25. https://www.firstpost.com/india/gujarat-sees-mass-exodus-of-migrant-workers-as-mobs-attack-north-indians-following-arrest-of-bihar-man-for-raping-toddler-5333161.html
26. https://timesofindia.indiatimes.com/india/amend-constitution-align-it-to-indian-value-system-rss-chief/articleshow/60471393.cms
27. https://indianexpress.com/article/india/anantkumar-hegde-we-are-here-to-change-the-constitutionsecular-mos-4998737/
28. https://www.thehindu.com/news/cities/Delhi/group-burns-copy-of-constitution-case-filed/article24660774.ece
29. https://www.moneycontrol.com/news/business/economy/ilfs-crisis-why-lic-is-india-incs-man-friday-3010651.html
30. https://economictimes.indiatimes.com/news/politics-and-nation/kumaraswamy-airs-audio-clips-of-bjp-offering-deals-yeddyurappa-calls-them-fake/articleshow/67897967.cms
31. https://timesofindia.indiatimes.com/india/delay-in-gujarat-poll-dates-hints-at-centres-direct-interference-says-congress-bjp-denies/articleshow/61069195.cms
32. https://thewire.in/government/centre-intervenes-in-cbis-civil-war-director-alok-verma-sent-on-leave
33. https://economictimes.indiatimes.com/industry/banking/finance/banking/the-assault-on-the-rbis-autonomy-is-just-starting/articleshow/67189049.cms
34. https://www.hindustantimes.com/india-news/same-group-behind-killings-of-dabholkar-kalburgi-gauri-lankes-members-linked-to-sanatan-sanstha-police/story-HOIJ0FGHOoxDjaESM6lZkJ.html
35. https://thewire.in/politics/judge-loya-death-questions
36. https://www.news18.com/news/india/india-falls-in-world-press-freedom-index-again-now-just-one-place-above-pakistan-1729655.html
37. https://economictimes.indiatimes.com/news/politics-and-nation/10-central-agencies-can-now-snoop-on-any-computer-they-want/articleshow/67188875.cms
38. https://thewire.in/politics/amit-shah-bjp-fake-social-media-messages
Ten Lies and 'Jumlas' of the Modi Government
1. "15 lakhs in every bank account" : Amit Shah admitted the '15 lakh' promise is a mere election 'jumla' (empty phrase) and no one is going to get that amount
2. "Note Ban will wipe out black money stashed by rich people in Rs 500 and Rs 1000 notes" : instead 99.3% of the demonetised notes returned to the RBI, which means all the money which was black has been turned white through demonetization.
3. "Swacch Bharat" : Modi claims 83.87% households in India have constructed toilets under the Swacch Bharat scheme – in fact, only 54.51% households have toilets. According to an India Spend report in 2015, over 1 crore toilets were built between 2008-11, compared to just 80 lakh toilets built across the country in 2015-16. A survey by the National Sample Survey Organisation (NSSO) in 2015-16 also highlighted that six out of every ten toilets built under the Swachh Bharat Abhiyaan had no water supply. There is at least one manual scavenging death every five days, according to the last report by the National Commission for Safai Karamcharis (NCSK), the body that was set up by an Act of Parliament.
4. "Beti Bachao Beti Padhao" : Government data released in 2018 showed that 56 percent of the funds allocated under the 'Beti Bachao Beti Padhao' scheme from 2014-15 to 2018-19, were spent on "media related activities" — i.e publicity for the Government – instead of education, health, and capacity building of girls and women. Less than 25 percent of the funds were disbursed to districts and states. Over 19 percent of the funds were not released by the government in the first place! In 53 out of 161 districts where the scheme was implemented in 2015, the Child Sex Ratio worsened.[39]
5. "Ujjwala Yojana freed women from polluting wood fires" : The reality is that, poor women who got LPG cylinders couldn't afford gas refills because of the high prices of cooking gas – so the rate of increase in the use of cooking gas cylinders is now lower than it was before the scheme was introduced. Modi is trumpeting that the poor have got free gas connections but this claim is far from the reality. Every gas connection costs Rs. 1750 for the consumer. For the free gas connection the supplier collects 1600 for the refill of cylinders (which is also subsidy on cylinders), hence in all, only the regulator costing Rs. 150 is for free.[40]
6. "Electricity for all" : Modi claimed to have electrified every Indian village. The truth? In 44 years between 1947-1991, 10,934 villages were electrified every year on an average; between 2014-18, this average was 4346 villages per year. Electrification of villages does not mean electrification of homes or even power availability. There are still 31 million Indian households without electricity. In Uttar Pradesh, Jharkhand and Assam, fewer than 60% of households have electricity. In 12 out of the 30 states, fewer than 80% of the households have been electrified.
7. "Self-employment under Mudra Yojana" : Modi claims he has given self-employment to 13 crore people under its 'Mudra Yojana'. What the government is terming 'generation of 13 crore jobs' is actually the number of loans (13 crore loans) under the Mudra Yojana. 90% of these loans were less than Rs 50,000 each. What kind of 'self-employment' can be generated in today's date with such a small amount, leave alone giving employment to others?[41]
8. "Skill India" and "Start-up India" : Under the much hyped Skill India scheme, only 0.19% of the total 4.50 lakh youth registered in 2014-15 could get employment in different sectors. A total of 800 Start-Ups were running between January and September 2017. This number was 6,000 in the same time period of 2016. The remaining have all shut down.[42]
9. "Respect for India and the Indian passport in the world" : Under Modi's mishandling of foreign policy, India's relations with neighbours has worsened and they have become closer to China; US has imposed 25% tariffs on steel import, US President Trump boasts that India is "desperate" for a trade deal with the US out of fear of what he "might do"; Trump mocks and makes fun of Modi, Modi claims that Trump is his best friend but he has turned downed his invite for Republic Day. The UK Government has excluded Indian students from a new list of countries considered "low risk".[43]
10. "Make in India" : is a cruel joke. In the name of wooing MNCs, wages are being pushed down and trade unionising is being punished. At the same time, jobs in the manufacturing sector are stagnating; and MNCs are not manufacturing in India. Worst, the Modi Govt did not allow the experienced PSU HAL to make the Rafale jets in India and thereby import French technology – instead it outsourced the contracts to the failing Anil Ambani's inexperienced Reliance company. India contributes 0.9% of its GDP to research, compared to China's 2.1% – and the Modi Govt is dismantling publicly funded research-oriented Universities and educational institutions. Make in India is nothing but an open invitation to corporates to 'Loot in India' and allow them to openly violate labour and land acquisition laws.
Notes:
39. https://www.bloombergquint.com/quint/truth-of-beti-bachao-beti-padhao-funds-spent-on-publicity
40. https://scroll.in/article/865853/pms-plan-for-free-gas-connections-is-failing-its-objective-as-government-had-been-warned-it-would
41. https://www.indiatoday.in/fact-check/story/fact-check-are-mudra-loans-really-generating-jobs-1313563-2018-08-13
42. https://www.indiatoday.in/india/story/india-today-expose-finds-out-skill-india-initiative-weaves-more-scams-than-success-stories-1345024-2018-09-20
43. https://theprint.in/national-interest/indias-foreign-relations-are-in-tatters-and-the-modi-government-has-only-itself-to-blame/77014/
Ten Huge Scams
Modi Model of Governance has benefited only the Sangh Parivar, the Parivars of Modi's friends Amit Shah and Ajit Doval, and the various corporate Parivars of Adani, Ambanis, Nirav Modi, Choksi, Mallya. In exchange for the right to loot and scoot, Modi's capitalist cronies are more than willing to fund the communal fascist regime of Modi to destroy India and establish a Hindu Rashtra: funding that remains secret thanks to new laws enacted by the Modi Government.
1. The Rafale Scam : Modi's Rafale Deal reduced the number of aircrafts from 126 to 36, increased the per aircraft price from 715 Cr to 1660 Cr, dumped the PSU HAL in favour of Anil Ambani's newly minted defence company, even though Anil Ambani's Reliance empire is bankrupt, mired in unpaid bank loans and has zero experience in defense manufacturing. Documents now show that the Defence Ministry objected to the "parallel negotiations" conducted by the PM's office with France undermining India's official negotiating team.[44] Documents also show that the "domain experts" on the Indian Negotiating Team authored a detailed note of dissent, finding that the Modi government's new Rafale deal for 36 flyaway aircraft was not on "better terms" than the UPA government's deal.[45] Not only was the number of aircraft (36) less than the 126 offered by the UPA-era deal, the delivery schedule of the first 18 of the 36 flyaway Rafale aircraft in the Modi deal was slower than the one offered for the same in the original UPA deal! Not only that, documents make it clear that the PM shared advance information about the "top-secret" Rafale deal with his crony Anil Ambani.[46] The question is: what did Modi get in return for brokering this deal which harmed India and only profited the broke Anil Ambani? We may never know, since the Electoral Bonds introduced by Modi ensure that corporate funding for political parties can remain secret![47]
2. Bank Loan Fraud and NPAs : The amount of bank frauds (like the PNB-Nirav Modi case) had increased from Rs 1,542.8 crore (Rs 15.42 billion) in 2008-2009 to Rs 22,469.6 crore (Rs 224.69 billion) in 2017-2018, because the Modi regime deliberately failed to act against his cronies, bank fraudsters like Nirav Modi and Mehul Choksi; it has rather helped them escape the country and go abroad.[48] The amount that wilful defaulters like Mallya, Modi and Vikram Kothari of Rotomac owe Indian banks is more than 1.5 times the central government's allocation for agriculture and farmer welfare (Rs 35,984 crore) in the Union Budget 2016-17.[49] Even the Parliamentary Estimates Committee headed by Murali Manohar Joshi has taken Modi to task for failing to act against the list of NPA defaulters against whom Raghuram Rajan had recommended action.[50] Mallya who had been declared a willful defaulter and owed crores to Indian banks, was allowed to flee the country, with the CBI deliberately diluting its look-out notice under instructions from the PMO. Nirav Modi also fled after having defrauded the Punjab National Bank of crores.
3. Jio University Scam : PMO gave "Institute of Eminence' tag to the non-existent Jio Institute of Reliance Foundation (belonging to Modi crony MukeshAmbani) inspite of objections from HRD and Finance Ministries![51]
4. Patronage and Protections for scams in BJP and NDA led State Govts .: There have been a series of scams in BJP and NDA led State Govts. In MP there was the Vyapam scam where ministers and officials colluded to let imposters write examinations to various posts. The BJP Govt in MP shielded the accused and has failed to provide protection to witnesses. As a result more than 50 witnesses have been murdered and died mysteriously. In the Srijan Scam in Bihar around 880 crores were fraudulently transferred to an account of an NGO named Srijan. Documents have shown that Nitish Kumar and Sushil Modi are directly involved in the scam. The Bihar Govt. has been shielding the accused in the scam. In other states too there have been scams like the Rice Scam involving Raman Singh in Chhattisgarh and Chikki Scam in Maharastra. Even the accused in the West Bengal Saradha Scam were shielded as soon as they joined the BJP: Saradha-accused former TMC leader Mukul Roy is now a BJP leader and former Congress leader of Assam Himanta Biswa Sarma, also a Saradha-accused, is now Deputy CM of Assam from the BJP!
5. Crop Insurance Scam : Modi's Pradhan Mantri Fasal Bima Yojana (PMFBY) was launched with much fanfare but it has resulted in fattening profits of insurances companies while increasingly farmers are opting out of the scheme. Over two years (2016-17 and 2017-18) premium collected was 47,408 crores and claims paid was 31, 613 crores resulting in a windfall gain of almost 15,000 crores for the insurance companies. Under the insurance scheme before the present one the premium collected over two years (2014-15 and 2015-16) was 10,560 crores and the claims paid was 28,564 crores. Farmers are increasingly seeing through the PMFBY and have increasingly started opting out of the scheme. In 2016-17, in the first year of the scheme 57 million farmers opted for the scheme but in the second year in 2017-18 the number has fallen to
48 million.[52]
6. Note Ban Scam : Note Ban helped Modi's cronies launder huge amounts of black money. Ahmedabad District Cooperative (ADC) Bank which has BJP President Amit Shah as a Director, netted the highest deposits among such banks of old Rs 500 and Rs 1,000 notes. 12 petrol pumps in Gujarat deposited more than Rs. 80 lakh each with ADC; almost all of these 12 names are directly or indirectly related to Amit Shah. The second highest deposits received were by the Rajkot District Cooperative Bank, whose chairman Jayeshbhai Vitthalbhai Radadiya is a cabinet minister in the BJP's Gujarat government.[53]
7. Jay Shah Scam : A company owned by BJP President Amit Shah's son Jay Shah increased its turnover 16,000 times within a year following the election of Modi as PM.[54]
8. Piyush Goyal Piramal Scam : Modi's Minister of state of power, coal and new and renewable energy Piyush Goyal sold the entire stock of a company he and his wife owned, at nearly 1000 times the face value, to a group firm owned by Ajay Piramal – a billionaire with substantial interests in the infrastructure sector including power. Goyal hid this transaction in the mandatory statement of assets and liabilities that he made as a Minister to the PMO in 2014 and 2015.[55]
9. Piyush Goyal Shirdi Industries Scam : The promoter of Shirdi Industries, which defaulted on bank loans worth Rs 650 Crore, has close ties to Modi Minister Piyush Goyal and his family. Goyal was director of Shirdi Industries till 2010, and the current owner of the defaulting company gave an unsecured loan to the firm owned by Goyal's wife of Rs 1.59 crore.[56]
10. Power Tariff and Thermal Power Project Scam : Government documents show that the BJP Govt in Jharkhand amended its energy policy in 2016 to allow coal-fired thermal power project in Godda, Jharkhand of Adani Power Limited to charge a higher price than what other thermal projects bill the state.[57] Adani is among Modi's closest cronies and funders. Further, Adani and Essar inflated power tariffs by over-invoicing coal imported from Indonesia, and passed on the costs to the consumer – amounting to a Rs 50,000 crore power tariff scam.[58]
Notes:
44. https://www.thehindu.com/news/national/defence-ministry-protested-against-pmo-undermining-rafale-negotiations/article26207281.ece
45. https://www.thehindu.com/news/national/rafale-deal-not-on-better-terms-than-upa-era-offer/article26253566.ece
46. https://indianexpress.com/article/india/two-weeks-before-rafale-announcement-anil-ambani-met-french-defence-officials-5579069/
47. https://www.thecitizen.in/index.php/en/NewsDetail/index/4/15683/Electoral-Bonds-A-Cover-for-Fraudulent-Political-Funding
48. https://www.businesstoday.in/sectors/banks/bank-frauds-rise-over-72pc-to-rs-41167-crore-in-2017-18-says-rbi-report/story/305552.html
49. https://www.rediff.com/business/special/special-5275-wilful-defaulters–mallya-owe-banks-rs-56621-crore/20160318.htm
50. https://thewire.in/political-economy/m-m-joshi-led-panel-asks-pmo-for-rajan-list-of-high-profile-fraud-npas
51. https://indianexpress.com/article/education/institutes-of-eminence-tag-hrd-ministry-and-pmo-disagreed-on-crucial-issues-reliance-jio-5327945/
52. https://timesofindia.indiatimes.com/city/kochi/pmfby-bigger-scam-than-rafale-sainath/articleshow/66596448.cms
53. https://thewire.in/banking/bank-with-amit-shah-as-a-director-collected-highest-amount-of-banned-notes-among-dccbs-rti-reply
54. https://thewire.in/business/amit-shah-narendra-modi-jay-shah-bjp
55. https://thewire.in/political-economy/in-selling-firm-to-piramal-group-as-minister-piyush-goyal-pushes-ethical-boundaries
56. https://thewire.in/politics/promoter-of-company-in-default-of-rs-650-crore-has-ties-to-piyush-goyal-family
57. https://scroll.in/article/881928/rs-7410-crore-question-jharkhand-amends-energy-policy-to-buy-power-from-adani-at-higher-price
58. https://www.epw.in/journal/2016/20/web-exclusives/power-tariff-scam-gets-bigger-rs-50000-crore.html
We The People Demand:
Tax The Super Rich to Fund People's Welfare
Inequality spawned by three decades of neo-liberal policies has reached its zenith over the last 5 years: the latest Oxfam inequality report shows that in India the wealth of 9 billionaires is equal to the wealth of the bottom 50% of our population.
The Modi Government has brought 'acche din' for India's super-rich alone, at the cost of its ordinary people. The Oxfam survey showed that the fortunes of Indian billionaires swelled by ₹2,200 crores a day in 2018 (contrast this with the mere Rs 3.30 a day that the Modi Government's latest budget has offered every member of peasant families.) In 2018, in the wake of the demonetisation disaster where Modi promised to destroy black money hoarded by the super-rich, the top 1% of the country's richest got richer by 39% as against 3% increase in wealth for the bottom half of the population.[59]
Modi makes speeches against political dynasties – yet the BJP not only promotes political dynasts and helps sons of Modi's best friends amass riches: it also allows corporate dynasts to control and plunder India's resources and wealth. In 2018, the combined revenue and capital expenditure of the Central and state governments for medical, public health, sanitation, and water supply is Rs 2,08,166 – less than Mukesh Ambani's wealth of Rs. 2.8 lakh crore.[60]
When we ask Governments for public health, education, rations, farmers' welfare, social security, they say 'We have no money'. The truth is, India's wealth is cornered by a handful of corporate parivars: the Oxfam report found that if the 1% richest Indians pay just 0.5% extra tax on their wealth, the government can increase spending on health by 50%!
The Modi Raj – which has been nothing but a Corporate Billionaire Raj – must end in May 2019 – and the future Government too must be compelled to end the control of corporate parivars on India's resources, policies, politics, and Governments.
In this charter, therefore, we demand a wealth tax and inheritance tax on the India's richest 1%, which can fund budgets for public health and education of India's ordinary people.
We demand an end to loan waivers and tax waivers for India's super rich 1%.
We demand transparency in political and electoral funding so that corporations can no longer buy up political parties, and Conflict of Interest laws be enacted to safeguard public policy-making from corporate interests and lobbies
A Corruption-free India
Modi has enabled his corporate cronies to loot India – and then helped many of them to scoot from India. Remember, if this loot is recovered – the Rs.60,000 Crore of the Rafale scam; the12 lakh crore worth of unpaid bank loans, the lakhs of crores lost in bank frauds by Nirav Modi/MehulChoksi, the black money laundered by BJP leaders through demonetisation etc – then imagine how many farmers' loans could be waived, how many schools and Universities could be funded, how many of the poor could get pukka homes, how many AIIMS-standard hospitals and health centers could be created.
The same BJP when in Opposition made a huge hue and cry about the appointment of Lokpal, but once in power it has conveniently forgotten about it. The double speak of the BJP on corruption and Lokpal when in Opposition and in Government has to be called out.
Probe and punish those guilty for Rafale Scam, Note Ban Scam, scams in which Jay Shah, Vivek Doval and Piyush Goyal are implicated, Srijan, Saradha and Vyapam scams.
Extradite Mallya, Nirav Modi, Mehul Choksi, Lalit Modi, Sandesra from countries where they are currently living, bring them to justice and recover all public money from them.
End NPA Scam – take exemplary action against all the defaulters on Rajan's list of bank loan defaulters
Order a thorough and impartial investigation into the working of the CBI, NSA, ED, and other investigative and oversight agencies under the Modi Government
Set up a strong Lokpal
Roll back the dilutions of the Prevention of Corruption Act
Enact a law against Conflict of Interest
End the corporate plunder of natural resources, ensure payment of taxes by the super-rich and corporations
Ensure independence of CIC, CVC and all investigative agencies
Reverse the Electoral Bond scheme and other measures by the Modi Govt to promote electoral corruption; ensure full transparency in electoral funding
Welfare And Rights of People
Curb prices of essentials, universalise PDS and distribute all essential commodities under PDS; delink PDS and other welfare measures from Aadhaar; prevent replacement of food rations by cash transfers
Comprehensive implementation of MNREGA for a minimum 250 days of employment per year.
Ensure minimum wage Rs.500/day to agriculture workers and all rural workers.
Enact an Urban Employment Guarantee Act
Universal social security cover for all workers,
Universal Pensions not less than Rs.9,000/- p.m. for the elderly above the age of 55.
Scrap Ayushman Bharat and health insurance schemes, instead enact A Right to Healthcare law at Centre and State levels providing Universal Healthcare for every Indian by expanding and strengthening freely available public healthcare services including well-equipped PHCs in every block, and excellent public hospitals for all.
Ensure housing for all homeless people and safe drinking water to all
Publicly funded health and rehabilitation services, as well as full access to all public spaces and transport for the disabled
Save India's Intellectual Property Rights regime from the ongoing attempts at erosion, ensure easy access to high quality generic medicines; end drug trials and coercive population control policies
Security and Prosperity For Farmers
Farmers feed us all – and yet they are forced to commit suicide due to the agrarian policies of the Government. Lakhs of crores worth of unpaid bank loans of corporates are waived – but the Government refuses to waive farmers' loans or ensure remunerative prices, forcing them to commit suicide. When farmers fight to demand their due, this Government has rewarded them with bullets.
We demand:
Enact a law to guarantee remunerative price of 50% above cost of production to all crops
Guarantee purchase centers as recommended by National Farmers' Commission
Withdraw the Land Acquisition (Amendment) Bill 2015 from the Parliament, scrap all state-level land acquisition laws that are at odds with theRight to fair compensation and Transparency in Land Acquisition, Resettlement and Rehabilitation Act, 2013, stop/reverse all forcible displacement and eviction. The beneficial provisions of this law must be extended to all instances of acquisition of land, without exempting acquisition under other statutes.
Enact fresh legislation to prevent forcible land grab and indiscriminate acquisition or purchase of fertile land, forest- land, coastal areas and traditional fishing zones by the corporates or the governments.
No corporatization of agriculture, ensure farmers' sovereignty over seeds. Government must provide modern agricultural inputs including agro-processing, cold storage, irrigation and marketing networks.
Loan waiver to all peasants including loans from Public and Private Banks, cooperative banks, as well as moneylenders.
Interest free, institutional credit for agriculture to all peasant households.
End corporate farming and ensure seed sovereignty for the farmer. The Govt has to take the initiative in updating farmers about environment friendly methods of farming and establish processing units, cold storages and marketing networks for agricultural produce.
Withdraw the anti-farmer notification of the Central Government banning cattle trade in the cattle market, scrap "cow protection" laws which are leading to devastation of dairy farmers as well as agriculturalists and are being used as pretexts to persecute and kill Muslim minorities.
Hold a Special Session of Parliament on the agrarian crisis and farmers' issues, Pass a specific farmers' budget in every Budget session.
Security and Dignity For Workers
The Modi Government has set about to systematically dismantle all labour laws in the country. We are witnessing that all forms of employment is increasingly becoming informalised and contractual and as a result the working class today doesn't have any safety around it and is employed on a hire and fire policy. The latest policy of the Modi Government is fixed term employment which will mean a death knell of any kind of security for the working class.
We demand that:
Stop attempts to violate and erode labour laws, ensure job security and end contractualisation, strictly implement minimum wage laws and uphold rights to form trade unions and collective bargaining.
Universal social security for all workers irrespective of which sector they are in.
Reverse growing unemployment by immediately filling up all existing vacancies in Government Departments and PSU's, arrest job loss and introduce concrete measures for employment generation.
Ensure minimum wages of not less than Rs 18,000/- per month.
Ensure the status of Government employees to all scheme workers, and ensure the status of workers for home based workers;
Enact law protecting the rights of domestic workers.
Enact a Right to Employment and Sustenance Act with provisions for unemployment allowance, and allowances for widow, old-age and persons with disabilities.
Recognise artisans, craftsmen, including those in self employment in the informal and unorganised sector with a single identity card enabling them to avail all special benefits in housing, health and education.
Complete exemption from GST for handloom and handicrafts sector
Scrap New Pension Scheme for central and state govt employees and revert back to the Old Pension Scheme.
Stop privatisation of PSUs and merger of public sector banks and insurance companies.
End caste-based assignment of occupations, implement the Manual Scavenging Act
End all gender discriminatory rules imposed on women workers (such as ban on mobile phones or restrictions on mobility outside factories and hostels)
Protect the rights of inter-state migrant workers and prevent and punish xenophobic violence against them
Education And Employment For All
Today 65% of India's population is below the age of 35.[61] But in the current model of development, Young India is the worst hit, mainly due to the rapid privatisation of basic facilities like health and education, and policies promoting jobless growth. According to the 2011 census 8.4 crore children in the age bracket of 5-17 are outside the ambit of school education: mainly because of privatisation of our school education.[62]
In his election campaign Modi had promised to spend 6% of the GDP on education. But in the first Budget itself there was a cut of 23% in allocation for primary education and a whopping 49% cut in the allocation for Anganwadis.[63] Since then the allocations for education in the annual budget has been steadily declining. Today only 3.5% of the GDP is being spent on education and 65% of this expenditure is made out of the collections from the Education Cess which means the Govt effectively only spends 35% of the amount. Today the Right to Education Act in being implemented only in about 12% of schools across the country rather more than 2 lakh government schools have been closed down in the country.
Institutions of higher education have faced the worst of the Modi Govt. with VCs appointed by the Govt leaving no stone unturned to destroy reputed universities. Fund cuts, seat cuts, cuts in scholarships, cuts in reservations in student admissions and faculty positions have all been boosted under Modi, who has instead personally pushed Ambani's Jio model of school and higher education with exorbitant fees.
As a result, in 2017-18, undergraduate enrolment in HEIs declined to just 9.25 lakh students down from 21.64 lakh students in 2013-14. The average enrolment per college declined from 731 in 2014-15 to 698 in 2017-18. Since 2015-16, the number of colleges available per lakh of 18-23 year-olds has stagnated at 28. The student-teacher ratio declined from 1 teacher per 21 students in 2012-13 to 1 teacher per 30 students in 2017-18. The only increase under Modi Raj has been the increase in the share of private universities: the share of privately managed universities increased from 32% in 2012-13 to to 38 per cent in 2017-18; while the share of private colleges rose from 75% to 78%, that of government colleges fell from 25% to 22%. Of the 1147 Colleges established in 2017, 941 (82 per cent) were private colleges, whereas only 206 (18 per cent) are government colleges.[64]
NSSO data on employment that the Government tried to suppress reveals that unemployment is at a 45-year high in 2017-18. Unemployment rates have jumped from around 2-2.5 per cent, to above 6 per cent. Unemployment is worst for young men and women between 15-29 years of age: 13-17 out of every 100 rural youth, and 18-27 out of every 100 urban youth are unemployed.[65] The attempt by Modi to pass off 'pakoda selling' as 'jobs' and claiming that job-seekers have turned into job-providers is a cruel joke; actually street-vending is disguised unemployment and the Modi Government's policies made life much harder for street vendors. Even those who are nominally "employed" lack secure and dignified employment: 82% men and 92% women are earning even less than Rs. 10000 per month.[66]
We demand:
Reverse the tide of unemployment: fill all 24 lakh vacancies in government posts
Increase number of government jobs.
End the regime of Paper Leaks and Corruption in recruitment.
Recognise Right to dignified employment as a fundamental right!
Ensure unemployment benefits at least at the rate of minimum wages (Rs 18,000 per month) for every person who is jobless
Reforms in the education system along the lines suggested by the Kothari Commission, invest in and strengthen government schools, introduce a common school system ensuring free schooling of a uniformly good quality for every child in their own neighbourhood.
Spend 10% of the GDP on education, ensure free and compulsory education for all from KG to PG
A regulatory framework to regulate fees and other aspects of private schools.
Student teacher ratio in schools must be maintained at 30:1. All necessary recruitments must be made to achieve this ratio. Stop burdening teachers with administrative and government work. Provide training and regularisation to all "para teachers"
End saffronisation of education, rewrite school textbooks to reflect values of democracy, equality, justice and scientific thinking.
Withdraw the 12th February UGC Gazette notification and 20th March MHRD declaration which dictate "self-financing" (i.e privatisation) in the name of "autonomy."
Withdraw all MHRD/UGC notifications and letters that restrict funding by central government to 70% for central universities and 50% for state universities.
Reverse scuttling of reservations in admissions and in teaching posts in higher education institutions on various pretexts; scrap the 13 point roster reinstate the 200 point roster in faculty recruitment; withdraw 10% EWS quota for "general category" and instead ensure enough publicly funded higher education seats for all. Private institutions of higher education must be mandated to fulfil SC/ST/OBC reservations in admissions and in faculty and staff positions.
Government funding for running universities must expand and not be reduced as has been designed in the recent orders.
Reverse the damage done to publicly-funded Universities under Sanghi VCs appointed by the Modi regime, ensure democracy for students and teachers, punish organised violence by ABVP mobs on students and teachers, withdraw Lyngdoh commission orders curtailing the rights of students to contest Student Union elections.
Ensure fully autonomous GSCASH in all institutions of higher education rather than puppet ICCs .
Remove all discriminatory rules against women students in private and public hostels and institutions of education
Ensure hostels for all out-of-station students, with priority for women, students from the North East, and SC/ST students
Enact 'Rohith Act' to prevent anti-Dalit discrimination on campuses
Protect and Expand Constitutional Provisions for Social Justice
Implement the Scheduled Castes and Scheduled Tribes (Prevention of Atrocities) Amendment Act, 2018
Undertake comprehensive land reforms, strictly implement land ceilings and redistribute ceiling-surplus lands
Ensure homestead land for all landless labourers
Strict implementation of The Scheduled Tribes and Other Traditional Forest Dwellers (Recognition of Forest Rights) Act, 2006
Strictly implement Chhotanagpur Tenancy (CNT) and Santhal Pargana Tenancy (SPT) Acts in Jharkhand
End militarisation in forest areas, release all adivasi villagers from illegal detentions and withdraw false cases on them. In particular release all adivasis arrested in the context of the Pathalgarhi movement
Stop harassing activists, intellectuals, journalists etc working in adivasis areas, withdraw all false cases on them
Implement The Panchayat Extension to Scheduled Areas (PESA) Act in letter and spirit
Scrap MOUs and projects that hand over forests, land, and water resources to corporations without the consent of adivasi populations
Uphold Freedoms and Dignity of Women and LGBTQI Persons
The last four years has seen a relentless attack on women and women's freedom, with the support and sanction of BJP Governments and the Sangh Parivar. While significant Court verdicts have recognised the Constitutional rights of LGBTQI persons, the Government is seeking to undermine those rights.
We demand:
State-funded shelters run in a transparent and gender- sensitive manner for women facing domestic violence
Increased budget to increase the number of judges and courts in proportion with India's population, to ensure speedier trials
Reverse dilution of 498A
Prevent dilution of the PCPNDT Act.
Pass the 'Women's Reservation Bill' for 33% reservation for women in Assemblies and Parliament without further delay.
Strict law and action against outfits indulging in moral policing and organised violence against women's autonomy, inter-caste and inter-faith marriages, and same-sex relationships
Implement the Supreme Court's recommendation of recognition and welfare measures for transgender people- withdraw Transgender Bill 2018 and introduce a new bill that recognises the rights of trans persons to self-identification
Amend Sexual Harassment of Women at Workplace (Prevention, Prohibition and Redressal) Act, 2013 to get rid of intimidating clause threatening women with punishment for "false complaints."
Implement the recommendations of the High Level Committee on the Status of Women to reform diverse personal laws relating to marriage, divorce, and inheritance and bring them in line with women's Constitutional rights. Scrap the law criminalising Instant Triple Talaq, instead cancel registration of religious bodies and authorities who illegally recognise Instant Triple Talaq as divorce.
End any existing bans on entry of women into religious establishments
Uphold Justice and Fraternity
Punish perpetrators of mob lynching and other hate crimes, ensure justice for all victims of mob lynching. Families of all those killed in such crimes must be given Rs 1 crore in compensation and those injured must be given Rs 25 lakhs
Enact law fixing accountability on the State for the prevention of communal hate crimes. The Home ministry must place a report in every Parliament Session with facts, figures, and action-taken on hate crimes.
Punish the killers of Narendra Dabholkar, Prof Kalburgi, Govind Pansare and Gauri Lankesh.
Enact law against patriarchal and caste -pride crimes against couples.
Dismantle and outlaw the entire network of Sanghi terror outfits including Sanathana Santha and the Bhonsala Academy which train and arm perpetrators of assassinations and hate crimes
Scrap "cow protection" and "anti-conversion" laws that are pretexts to persecute religious minorities, Dalits, and adivasis for their way of life, diet, and faith.
Political Resolution of Long-Pending Conflicts
End militarisation (including the use of bullets, pellet guns, and humiliating 'human shield' practices) in civilian areas in Kashmir.
Protect students from Kashmir and the North East from discrimination, harassment and violence.
Probe and punish mass graves, rapes, custodial killings and other violations of human rights by police and armed forces in Kashmir, the North East, Bastar and other conflict areas.
Resolve the Kashmir conflict in keeping with the aspirations of the various sections of Kashmiri society.
Ensure the formation of Autonomous State in Karbi Anglong
Form a separate state of Gorkhaland
Uphold The Constitution, Democratic Rights And Civil Liberties
Scrap Citizenship Amendment Act,
End detention camps in Assam and other states;
Stop attempts to use NRC as a tool of exclusion and hate-mongering;
Scrap draconian laws including Sedition, UAPA, NSA, AFSPA, MCOCA,
Free all political prisoners arrested under draconian laws as well as those convicted under erstwhile draconian laws like TADA
Ensure police reforms not only to free police from political control but ensure accountability of police and armed forces to constitutional norms and strictly punish and prevent custodial torture and killing
Urgent judicial reforms, including provisions for action against judges whose judgments subvert the Constitution and legitimise discrimination and bigotry; and a ban on post- retirement posts for judges
Scrap the Aadhaar Act
Enact law to protect Data Privacy
Environmental Rights and Protections
Stop destruction of forests and the environment through dilution of Environmental Regulations and Forest Rights Act; promote sustainable development
Heed the demands of ongoing peoples' struggles against nuclear projects, big dams and other anti-people projects; stop dilution of nuclear suppliers' liability and expansion of nuclear power; explore sustainable energy alternatives.
'All weather roads' are destroying the fragile ecosystem of the hills – stop all work on these till they are reviewed by a panel of experts
A host of environment protection legislations have been weakened by the Modi Government in the name of 'Ease of Doing Business' – these legislations must all be strengthened anew.
Time-bound clean-up of India's all polluted big rivers including the Ganga.
Protect the urban environment: stop cutting trees, protect lakes and other urban water bodies, urgent and comprehensive measures to curb urban pollution
Electoral Reforms
Large-scale democratic reforms should be introduced to ensure greater participation of women, tribals, Dalits, minorities, backwards and farmers in decision making state institutions.
Experience of the last 70 years of electoral process in country showed that the present "First Past the Post" system jeopardised the principle of "one vote , one value". Therefore the Election should be held as per proportionate representation rather than "First Past the Post" system.
Revert back to paper ballots given the widespread apprehensions about EVM-tampering
Reverse the Electoral Bond scheme and other measures by the Modi Govt to promote electoral corruption
Ensure full transparency in electoral funding, bring electoral funding under the RTI Act; political parties must receive all donations through cheques; no political party should be allowed to receive donations for amount exceeding Rs. 20 lakh from a single donor
A public platform should be used for addressing/appealing the public, which should be managed by the Election Commission. All the candidates should get the opportunity on that platform at a scheduled time to inform the public about their election manifesto and agenda.
Introduce a law allowing voters a "Right to Recall" elected representatives who betray their mandate
Safeguard Children's Rights
The number of children (below 18 years of age) in country is 40 percent of total population.[67] But the violence against them and their negligence has reached dangerous levels.
Every year around 1.25 lakh children enter the workforce as child labour, bonded labour in factories, domestic servants, and in prostitution and organ sale.
Almost 56 percent of children are victims of sexual violence in some form, most often at the hands of relatives of trusted persons.[68]
Almost 50 lakh children are employed as domestic servants, most of whom belong to oppressed sections of society like dalits, adivasis.
The pace of proceedings in courts dealing with children is glacially slow: at the present pace, it could take up to 70 years to clear the ongoing cases!
Every hour 8 children go missing and 43 percent never get traced.[69]
There are not mere figures but tragic stories of crores of children undergoing exploitation at its worst. As children do not vote, these figures never become part of political discourse.
We demand :
Urgent and time-bound measures to end child malnutrition, reverse budget cuts to anganwadis; mandatorily provide meat, fish, and eggs in school mid-day meals
Make a budgetary provision for national action plan for safety of children.
Under the Right to Education 2009 Act 2009 education upto 12th class must be made compulsory and free
Withdraw the Trafficking of Persons (Prevention, Protection and Rehabilitation) Bill 2018 and introduce a new anti- trafficking Bill that is in keeping with human rights (in particular, a Bill that does not conflate sex work and immigration with trafficking)
Create a budget for the rehabilitation fund for victims of trafficking
Crisis centres in every district for children in distress. A specially trained police force dedicated to dealing with child victims of crimes, as well as children in conflict with the law
Reverse retrograde amendments to the law protecting children from child labour[70], ensure economic rehabilitation of the families of children rescued from child labour
Reverse amendments to the JJ Act which allow children accused of certain crimes to be treated as adults
For speedy trial of matters related to children, establish special courts at district level with the help of retired judges.
Notes:
59. 'Public good or private wealth', Oxfam Briefing Paper, January 2019
60. Ibid
61. https://www.livemint.com/Opinion/2WSy5ZGR9ZO3KLDMGiJq2J/Indias-burgeoning-youth-are-the-worlds-future.html
62. https://amritaias.com/civilswiki/school-dropouts-on-a-rise/ v
63. https://www.indiaspend.com/budget-2018-falling-education-spending-aggravates-indias-learning-crisis-wastes-its-demographic-dividend-96241/
64. Source: All India Survey of Higher Education (AISHE) report for the year 2017-2018, https://www.newsclick.in/aishe-report-2017-18-confirms-rapid-privatisation-higher-education-2013-14
65. https://thewire.in/labour/nsso-data-puts-unemployment-at-45-year-high-in-2017-18-report
66. https://economictimes.indiatimes.com/jobs/92-female-82-male-workers-earn-less-than-rs-10000-per-month-report/articleshow/65953724.cms
67. http://censusindia.gov.in/Census_And_You/age_structure_and_marital_status.aspx
68. https://www.bbc.com/news/world-asia-india-42193533
69. https://www.huffingtonpost.in/dipin-damodharan/180-children-go-missing-e_b_10114654.html
70. https://indianexpress.com/article/opinion/columns/child-labour-bill-unequal-childhood-family-workers-free-education-2941209/
Strengthen People's Movements
For A More Egalitarian And Democratic India !