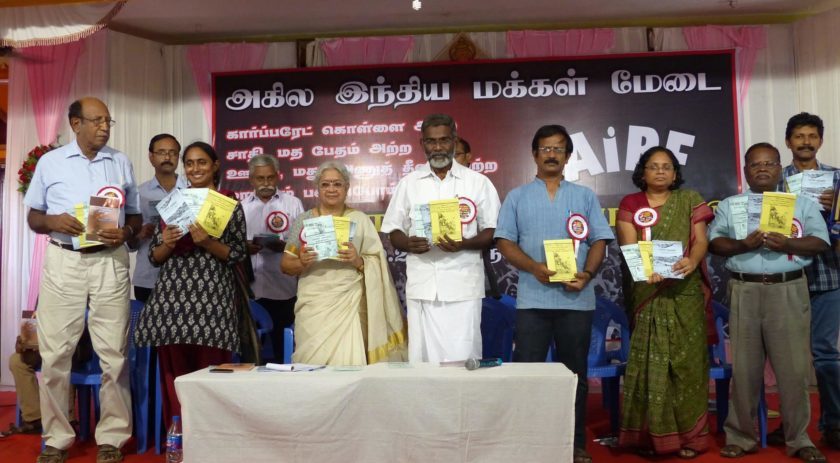 The All India People's Forum held its first Tamil Nadu State Conference at Tirunelveli on 11.10.2015. The Conference began with a Presidential address by Comrade G Ramesh. In the run up to the Conference, activists of the various AIPF constituent groups campaigned vigorously in various parts of Tamil Nadu. There was enthusiastic participation from working people, and intellectuals and activists from all over Tamil Nadu. A large number of women from the anti-nuclear Koodankulam movement participated.
The Conference was inaugurated by AIPF Campaign Committee Member Kavita Krishnan, who spoke about the Modi Government that was at the same time selling out India, and dividing India too. Both the corporates and the RSS are trying to make hay while the Modi sun shines. There were several inspiring instances of anti-corporate and anti-communal resistance. And the AIPF had emerged out of a felt need for uniting various streams of fighting forces.
Vasanthi Devi, former Vice Chancellor of Manonamanian Sundaranar University, said that Hindutva politics was founded on Brahminical patriarchy, and stressed the need to draw on the resources of Ambedkar and Periyar to combat it.
S Balamurugan of the PUCL spoke about the challenge of resisting the all-round attack on activists, movements and freedom of speech. Prof. Murali, former Principal of a Madurai College, spoke about the moves to make education a tradable commodity under the WTO, and the moves afoot to discipline and morally police college students in order to produce campuses compliant with the WTO regime.
Leader of the anti-Koodankulam PMANE, Dr SP Udayakumar said that the AIPF Conference was the beginning and not an end in itself. He stressed the need for mutual unity and solidarity. He spoke of the experience of the Koodankulam women activists who had not been silenced or scared by killing, arrest, or sedition charges. He spoke on the dangers of nuclear energy.
Com. Deebak of December 3 Movement, a Disability Rights Alliance, spoke very inspiringly about the rights of the disabled and the need for all platforms of people's movements to be sensitive to those rights.
Others who spoke included A Simson, writer Samsudeen Heera, scientist Dr Lal Mohan, omrade KM Sherif of Tamilnadu People's Democratic Party, Comrade Kathiravan of Athi Tamilar Katchi, Comrade  Arivalagan of Dalit Research Centre, and Comrade Sujatha Modi of NTUI, Comrade Bharathi of Democratic Advocate's Association, Comrade Thirumalaisami of TTSF, Comrade RR Srinivasan of Kanchanai Film Society, Comrade Mukilan of Makkal Sananayaga Kudiarasu Katchi,Comrade Pandiarajan of AISA, Comrade Abdulrahman of Satta Panjayathu Iyakkam, Comrade Jawahar of AICCTU, Comrade A Chandramohan and Mangaiyarselvan, AIPF NCCM members, and Com Balasundaram Tamil Nadu State Secretary CPI(ML). Comrade S Kumarasamy, PB member of CPI(ML) also attended the Conference. A State-level Council, Campaign Committee and Advisory Committee was elected from the Conference.