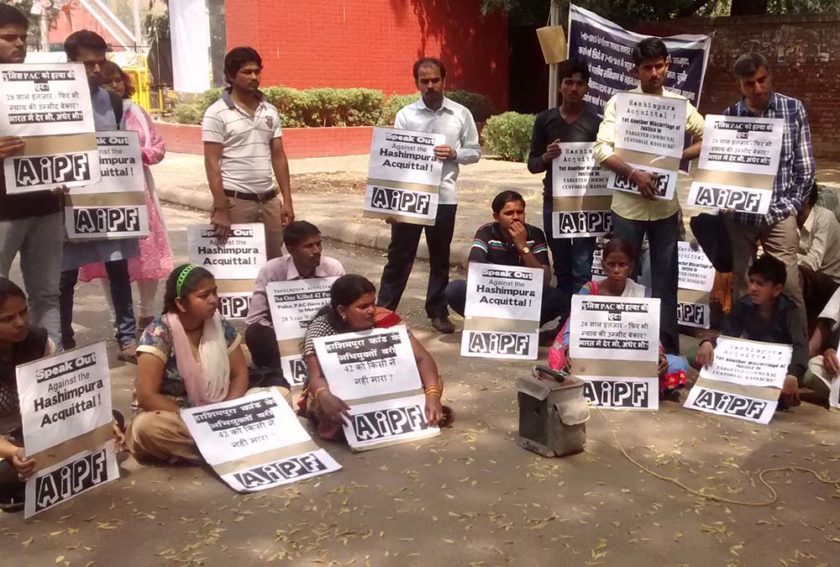 Protest demonstration was held on 25 March against the acquittal of all the accused police personnel in the Hashimpura custodial massacre case of 1987. This demonstration at Jantar Mantar, was called by the All India People's Forum (AIPF) and a range of concerned citizens and organisations participated in it.
The acquittal of the perpetrators of the cold-blooded killing of 42 Muslims, after a futile 28 year wait for justice, speaks volumes about the sorry state of India's criminal justice systems, and the lack of commitment of its political class and police machinery to basic secular, democratic values and norms.
28 years ago, personnel of the 41st battalion of the Provincial Armed Constabulary had entered Mohalla Hashimpura, forcibly evicted close to 50 Muslim male residents at gunpoint, and loaded them onto a truck. Most of these were young Muslim men, and all were working class, doing weaving or loom work to survive. In cold blood, the PAC shot most of the men and dumped them in the Upper Ganga canal in Ghaziabad. The remaining men were then shot and dumped in the Hindon canal in Makanpur. Five of the men, left for dead, survived.
The protestors said that Hashimpura acquittal is yet another miscarriage of justice in a case of targeted communal custodial massacre. The protestors pointed out: that (1) there is no mystery about the perpetrators, (2) why was no Government or investigative agency interested in checking the PAC log book to identify the guilty, (3) the acquittal is the result of systematic delay, destruction and withholding of evidence by the State machinery and Governments headed by a range of parties including so-called 'secular' parties. Hashimpura took place under the aegis of Congress Governments at the Centre and Uttar Pradesh, (4) could the PAC have abducted and killed 42 men without a green signal from its political bosses? (5) why did subsequent Governments of UP, headed by the SP or BSP never act against the accused PAC men, instead of promoting them?
AIPF protest declared- (1) We, the common citizens of India, stand with the men and women of Hashimpura, demanding justice as our right, (2) We demand that this shameful injustice towards the victims of communal custodial massacre in Hashimpura must be undone without delay.
Representatives of various organisations who spoke at the protest included Kavita Krishnan of AIPWA, ND Pancholi of PUCL, Navaid Hamid, Roma of NTUI, Leena Dabiru of CERI, Santosh Rai of AICCTU, Chintu Kumari of JNUSU and Swapan Mukherjee of CPI(ML).
Uttar Pradesh: Protest demonstrations were held at various district headquarters in UP. The protests in Ghaziupr, Mau, Lakhimpur Kheri, Jalaun, Moradabad and Sonbhadra were held on 26 March and in Banaras on 27 March. A memorandum was also submitted to the UP chief Minister Akhilesh Yadav to order a fresh and a time bound probe in order to ensure justice for the victims.